Artists: Artmongers



Recycling bins dressed with cow skin? If we look at the digestive system of the cow, and its proverbial four stomachs, the metaphor for recycling becomes coherent. But there is more than logic in Artmongers' choice of a cow skin print for their containers, and it has to do with Patricio Forrester's life experience as an Argentine.

The cow is a very well known subject for Argentine and English people alike.

It's something we have in common. We see cows grazing peacefully in the countryside as soon as we step out of our major cities, looking indifferent to the many changes of life, the increase in traffic or the tumult of contemporary life. It is perhaps because of this familiarity with the cow, and the huge economic contribution that cows make to the economy of Argentina, that one of the first compositions children are requested to write in primary schools has traditionally had as a subject: LA VACA (The cow).

The cow is one of our most cherished symbols and commodities: we love them, we eat them, drink their milk, wear their leather and make furniture with their skeletons and carpets with their skins. We even employ one of its bones to make the main component of a traditional game called 'taba'. Legends of XIX century gauchos living a nomadic life in the vast pampa and killing cows for the use of a small portion of their meat contrasts greatly with our contemporary concerns with recycling and respecting nature's resources.

Artmongers appropriated the image of the cow and launched the 'Cow bins' project in November 2005. Their cow bins have effectively produced an increase of 61% in recycled material in a period of only three months. The licence for the fabrication of the designed bins - painted by powder coating techniques as cow skins - was licensed to Taylor, the largest bin and industrial container manufacturer in the UK. Artmongers are currently in the process of implementing the initiative in Argentinean cities, where cows functioning as recycling bins will surprise people as much as they do in England.

In the meantime, Taylor's remit is to produce ten thousand cow bins. Their market will be primary schools where they will implement an education programme called 'Feed the Cows' designed to raise awareness on the need of selective recycling. So perhaps, we might expect children in England's schools to start writing compositions about cow bins before long.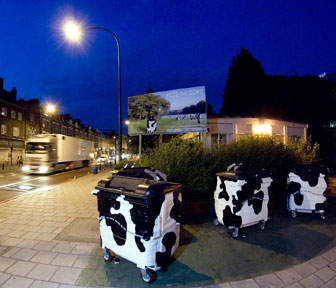 Cowbin © project/Proyecto vacatacho ©


2005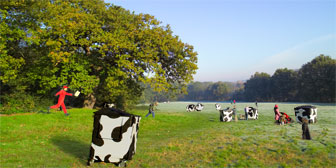 Cowbin© project/Proyecto vacatacho©


2005 Billboard