Artists: Jorge Orta



Against the backdrop of dictatorship during the late 1970s in Argentina, few artists explored alternative forms of art practise such as mail art, performance and public actions. Jorge Orta was the first artist in Argentina to work in video and light projections, creating highly controversial public installations at a time of tight censorship and political repression.

After setting up a studio in Paris in 1984 he began developing a visual iconography that had its roots in the investigation of signs and metaphors from a multitude of cultures and historical periods. This magic alphabet includes arrows, triangles, circles that could represent suns or planets, curves and crosses, combined to form a pictographic language of universal reach, a sort of human memory expressed in seemingly archaic signs. Orta's luminographic paintings are projected by powerful light canons, utilising latest technology image projectors and computerised facade lighting.

His first gigantic light projection was Poème Infographique, produced in 1992 for the Pompidou Centre in Paris. This piece was to be followed by his most emblematic and charged luminographic work: Imprints on the Andes which included the millenary city of Cuzco, Peru, site of the Inca empire, and an expedition across the Andes Mountain range, culminating in the magnificent Machu Picchu citadel. Orta's symbols bathed with their colourful luminiscence the ancient sacred mountains before the eyes of over a hundred thousand people, as a symbolic celebration of the 500th anniversary of the discovery of the Americas (1992).

Jorge Orta's lifetime work was honoured at the Venice Biennale where he was invited to represent Argentina with his piece Light Messenger of 1995. For this occasion he created a spectacular series of projections on the Venetian Palaces, from a cargo boat navigating the Grand Canal. The ephemeral light graffiti included drawings from workshops conducted with communities in South America.

Other luminographic interventions in emblematic World Heritage sites include Cappadocia in Turkey (1995); the medieval city of Cuenca (1993); Aso, the largest volcano in activity on the island of Kyushu, Japan (1994) and the cathedrals of Chartres, Evry (1996) and the Zócalo in Mexico City (2001).

The luminographic painting presented in this exhibition was commissioned especially for the house of Argentine ambassadors in London.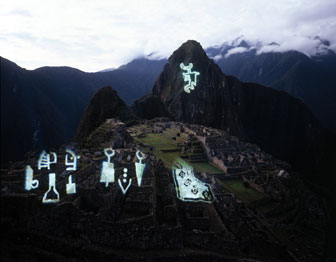 Machu Picchu


Luminographic painting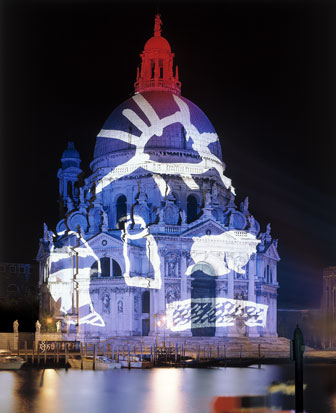 Venice


Luminographic painting