Artists: Jorge Gumier Maier



Jorge Gumier Maier is an artist and curator.

He came to notoriety as head of programming of the Centro Cultural Ricardo Rojas, a visual arts centre associated with the University of Buenos Aires, where he worked from 1989 to 1996. From this position, he acted as a theorist and catalyser of a generation of artists who became identified with the decade of the 1990s in Argentina due to their disregard of the all-pervading ideology of international New Conceptualism.

The philosophy of the Rojas group, under the tutelage and inspiration of Gumier Maier, was geared towards an over aesthetisation of the object and the re evaluation of taste, proposing an opposition to political art - or to art with a means other than itself -and despising the new profile of the artist as an entrepreneur, privileging triviality against elaborated messages.

The works by Gumier Maier and the artists he assembled around him can be seen as kitsch and unnecessary, closer to a bibelot than to an intellectual creation. They borrowed their beauty from times gone, when hand made decorations populated the corners and folds of grand architecture with Baroque decadence. The emphasis of the group's practise was put on hand made processes and the creation of elaborated surfaces and forms apparently void of signification beyond the pure visual and sensorial pleasure they suggest.

Gumier Maier finds subjects for his works in the apparent insignificance of architectural details, printed fabric, and other seemingly trivial fragments of reality. By employing devises such as isolation and scale manipulation, he then builds a poetics of hedonism, which seems to pay homage to forgotten moments of pure sensation.

The Untitled sculpture shown in this exhibition summarises Gumier Maier convictions and finds a privileged place in 49, Belgrave Square, where it can engage in a fruitful visual dialogue with the house's grandeur.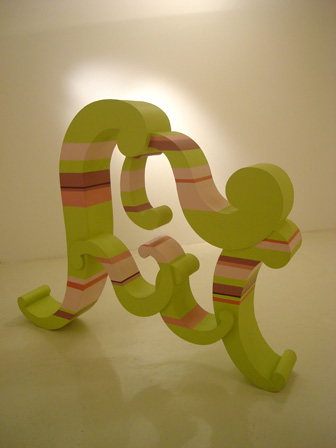 Untitled / Sin título


Acrylic on wood and plywood / Acrílico sobre madera y chapadur 151, 5 x 193 x 25 cm Courtesy of the artist and Braga Menéndez Arte Contemporáneo, Buenos Aires